Where A Glitch in Time is created...
Where Women Create
. I have always loved being able to take a peek at the studios, offices and workrooms of creative people. I find inspiration, wonder and delight in these voyeuristic opportunities to visit other artists spaces.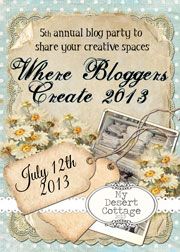 After finding the link to
My Desert Cottage
blog and reading the particulars about this Blog Party, I took the time to explore some of last years participant's blogs. What an enjoyable time. I not only found a number of blogs to start following, but quickly realized that I have much in common with some of these bloggers. It is always so nice to encounter kindred spirits. In their lovely photos, I noted that many of us are drawn to collecting, acquiring and displaying the same sorts of things. So, often as I perused the photos last night, I noted that I had one of these or those, or didn't that look lovely in that setting.
A few of the things I've got stuffed into an antique hutch.
I have worked feverishly this morning to get myself together to participate in this party. Ideally, I would have liked to take the time to get something really polished and prepared together, but that is not the case. Probably this suits my style these days better anyway. I am so busy, so unfocused and never really prepared for anything. Instead, I act and react when the situation calls for it, and that will have to do for the present.
Antique Hutch-- One of my favorite storage pieces.
It has been a very eventful year for me, and I have not quite caught my breath yet. My little family moved down to Florida from North Carolina last fall to be near many other family members. In the interim I have, besides all the unpacking, getting settled and properly licensed, etc., that goes with a move, began this blog over the past winter. I am still very new to this whole enterprise. Starting a blog was something I had felt I wanted to do for a long while, but the unreliability of our internet connection in rural North Carolina made it impossible. Like many other things in life these days, the blog has gone in directions I never expected or planned for, but I have taken the stance of waiting and letting it all sort itself out. After breaking my wrist (on my dominant left hand) and requiring surgery a few months ago, my crafting abilities became very limited. Though it is now fairly well healed, I still have quite a bit of residual pain as well as a metal plate, and do not know if I will ever recover the fine motor skills in this hand. So perhaps it is a case of reinventing myself once more, and approaching art, crafts and other activities with different expectations than in the past.
In the meanwhile, I am going to take you on a brief tour of my studio/workroom. It is very much in flux, even as I am, and decidedly untidy at the moment. While it is not what I want it to be, it is very much closer than just a few months ago. My furnishings and appointments in the workroom are piecemeal and will never really match. I had never thought much about what my style was, or even if I had one, but spending more time on the internet, on blogs, Pinterest and other social media have exposed me to classifications I didn't formerly even know existed. I guess "piecemeal" sums
Me
up. I have certainly got strong leanings toward Steampunk and Grunge styles, but I would be lying if I did not admit to a powerful attraction to all things Shabby Chic and some things Boho. These days I am totally enamored of anything with the word Brocante in it. Who new that France would be calling to me? It is the trash as treasure motif, I think.
I love antiques, and I have some lovely pieces in here. The hutch, pictured above, belonged to my Step-dad's mother and had been relegated to a storage closet before he gave it to me. I brought it home, cleaned it up, and it has been a much beloved piece for years now. There is a bit of dry-rot on the top of it and a broken edge on a back corner, but all in all it is quite sturdy and I have a huge amount of craft supplies, beads, wire, tools and all sorts of other brick-a-brac stored in it, and a large rack of seed beads sits on top.
A Glitch in Time Command Center
My computer desk is anything but an antique, and I look forward to the day when I can replace it with something else, but it serves its purpose and I am willing to wait till I find exactly what I want. In the meantime, I have everything I need here from my trusty printer to my
Aunt Jemima Head
pencil mug to my version of a mood board tacked on the wall in front of me. The clock above my desk was a thrift shop find which now displays sepia photos of my children and grandchildren. I spend a lot of hours in this chair every week between my blog, ongoing web page development and Photoshop, and I am quite happy here.
Antique Oak Dresser-- Fabric Storage
I could say that I have the room arranged into zones or areas, but that is not really true. I do try to have things conveniently placed though, when possible, and this is the case with the antique oak dresser that sits near my sewing table. I use the dresser to store fabric, patterns and other sewing supplies. It was formerly in my daughter's room, but her grandmother gave her a lovely antique bedroom set as a welcome gift when we moved here, so I inherited it (Lucky, happy me!). I have a nice new
Brother
sewing machine that I use now, but the wooden case next to the dresser
contains a refurbished antique
Singer
machine that I used for years and would never part with.
While I still need to get some overhead lighting installed in here, there is a lovely picture window on one end of the room. There were heavy blinds, but I recently took them down and hung up lace panels that will filter the light in winter when it gets very bright in here, but can be pulled aside to enjoy the summer scenery outside right now. The glass is just slightly tinted and offers a startlingly clear view.
Eventually, the small sewing table will be replaced by a long worktable in the (presently) empty center of the room. If it works out, I have a wicker couch I'd like to place in front of the window. Then we come to the corners of my long, rectangular workroom. Those and the floor, are where I put all the things I either have not found a place for yet, need to be worked on, or are part of ongoing projects. Since I do not yet have a large work table, I often sit on the floor to sand, paint or glue things. Below, I am putting pictures of some of those corner and floor dwelling treasures.
Beads displayed in glass case.
Buttons and Rhinestone bling in glass display case.
Projects started and projects waiting-- on the floor.
Yarn corner
Across the room from the window is one more corner. In this one I have a bag and basket containing some of my yarn. Also I have a pair of heddles from an antique loom that was no longer salvageable. I plan on hanging them on the walls but just haven't got to it. Eventually, I guess. Not far from this corner sits what is probably my favorite piece of furniture in this room, and maybe in the whole house.
It is an antique oak roll top desk. I do not know how old it is. Some fine day when I have time and think about it, I will attempt to research it. It was my Dad's and he asked me if I minded him leaving it in the house when we moved in. I guess I didn't mind much. I spent hours cleaning it, applying citrus oil and buffing it out. It was lovely to start with, and even lovelier after. I plan to do a post someday with pictures of all the cute and
Till next time-- thanks for stopping by.
Blessings to you all,
Gwen